---
"Beauty is in the blood." – The Belles by Dhonielle Clayton
---
So this is it. My review of The Belles by Dhonielle Clayton. I am not ready to get my thoughts and feelings out about this book. I had to read this book twice just to do this review. Even though I have read it twice, I can honestly say I can't deal with what happened in it. I need the sequel. I am having the hardest time putting this into a world so bear with me. I'm ready so let's do this.
Start by letting me say that this book was brilliantly and beautifully written. I haven't read any other books Dhonielle Clayton has written but I think I might have to just so I can read more of her writing. The story felt more magical with the way Dhonielle wrote it. The writing was perfect for the tone of the book that is all I'm saying.
Now it's time to talk about the book. This book is amazing. I love the difference between the Belles and the normal people. I love the history of how the acts of Gods has caused the difference. I think this book has proved that people are interested in looks and how they want to be seen by other people. I love it how Dhonielle has included this in. I don't know whether or not she intended it to be about this but still, I liked this added detail to the book.
I love the magic system within this book. Well, I guess we could call it magic? I love it how the Belles work to help everyone else. I like it how their only magic only stays for the person for a month before they go back to their original state.
I think Dhonielle has made such a great world and with the history of the Belles. She thought about everything. How they were bought up, why they are important and what makes them unique. I really can't wait to see where else she will take the tale of the Belles.
There were certain things in this book that was a bit confusing and unanswered. I hoped they were answered however, it seemed like she skipped over it. Maybe she will talk more about it in the next book. But for the time being, I'm okay with her not fully explaining it.
I love Camille's character. I love how headstrong she is. After her and her sisters split up, she fights for them no matter what is happening to her. I love the twists and turns that came with seeing things in her eyes. Throughout the book, her character grew into a strong feminine character that stands for what is right.
I loved the unity of the other The Belles. How their story is still not finished even though we aren't following them all. I like it how Dhonielle allowed us to see how they worked by themselves and how different they were from the others. I really didn't like Amber. Even though she's the 'main' sister figure in this book, I just couldn't get into her character. Maybe in the next book, she'll grow on me, but at the moment she's okay.  I did want to see more of the other Belles, but the interaction they had with Camille was enough until the end.
I can honestly say that I was so surprised by the twists and turns Dhonielle took us on. I loved everything about this book. Every time I say that I have a smile on my face, but it's true. This book was fantastic. I really need someone to read this book just so I can talk to them about it.
The one thing I really enjoyed about this book was that the author didn't add the needs for a love interest. I'm a bit on the bench on that statement, but I'm not sure on some parts on it. Hopefully, she doesn't add a love triangle. It doesn't seem like the sort of book that will include it. I hope not anyway.
I can't wait to see what will be happening in the rest of the series. The ending killed me and I wanted more every time I got to the end. If you like magic, mystery, and a story that captivates you from page one, you should get this book. I cannot recommend this book any more than I have.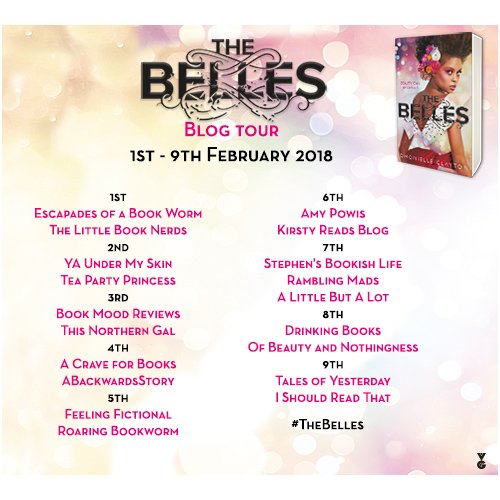 So that's my review of The Belles by Dhonielle Clayton. I am so proud to be apart of The Belles blog tour. Check out the other bloggers to check out their reviews of this book. Preorder this book asap, because I need someone to talk to about this book. 
If you like what you see, don't forget to hit the like button and follow button to get updates on when a new post appears. I post normally every Tuesday and Friday. I hope you enjoy!
Till then readers!
---
Don't forget you can enter the giveaway for The Waking Land by Callie Bates. This ends this Friday (2nd Feb) at 12pm BST!!! UK AND IRELAND ENTRIES ONLY!